Moduflex Scavenger Interface with Integrated Ventilator
The evolution in the veterinary market in terms of the care offered, but also in terms of clinical work methods, has led us to offer a new model of evacuation interface with an integrated fan. The latest model is designed to evacuate the waste gaz of 1 anesthesia machine.
Our gas evacuation interfaces are able to adapt to large variations in air flow, avoiding depletion of the breathing bag or increased resistance.
Designed to work with 1 anesthesia machine at a time
Pushes instead of pulling air
Can accommodate up to 50 feet of tubing
Designed to be installed on all small animal anesthesia machines
Operates up to 10 litres/min fresh gas flow rate
Can be installed on all brands of anesthesia machines (with an optional universal bracket)
1 outlet of 19 mm for evacuation and 2 inlets for absorber system and Bain circuit
70 inch long electrical wire
12-volt power supply
5 year warranty
Made in Canada
Quiet
Available from February 15, 2021
How to Install Moduflex Scavenger Interface with Integrated Ventilator
Related Information From The Blog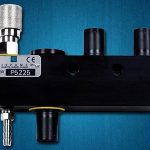 Are you considering the purchase of a new anesthesia machine or upgrading an existing one? Learn all the advantages the different veterinary anesthesia accessories offer. Making your life easier, these products will complement your existing equipment and allow you to concentrate solely on your intervention on the patient. Why you should get anesthesia accessories Reduce … [Continue Reading]
Do you worry that your gas evacuation system is out of date or that your employees may be inhaling the gas? Are you thinking of renovating? If so, the following information will help you to choose the best gas evacuation system for your practice.